There's something about having a clean slate and fresh start with the New Year that feels so good, but it can also be overwhelming. You're back at work, you're adjusting/readjusting to a new schedule or workout regimen, and who knows what else. 2018 was such a great year for me in terms of reaching my fitness goal and that was gaining more body positivity. Accepting my body and loving it for all that it is capable of has changed my approach, and I want to simplify my goals for 2019 in partnership with California Almonds, the sponsor of this post.
This year, I don't have any big goals in mind just yet. As much as I want to announce to the world I'm going to work toward a marathon or a competition of some sort, I'm going back to the basics. My word this year is "simplify." I'm focusing on strengthening my foundation and reinforcing habits that will help me in the long run. You are only as strong as your weakest links and right now, my daily habits are not where they should be. Here's what I'm focusing on this year and I'm partnering with California Almonds to share it with you.
Drink More Water
So simple right? This is by far the hardest thing for me to do. I'm NEVER thirsty. I can go all day with nothing more than a cup of coffee and that's not good for my body. I'm making it a goal to carry water with me at all times and just drink as much as I can. I now put a glass of water by my bedside and will drink a glass before bed and when I wake up in the morning.
Practice Intuitive Eating
The key word here is practice. It's taken YEARS for me to get better at listening to my body when it comes to food. I'm now at a great place and my relationship with food has changed drastically. Growing up, I was always told to finish everything on my plate. My parents were immigrants, so wasting food just wasn't an option. But that made binge eating and overeating such a normal habit and it was hard to break. I don't follow any strict diets or calorie counts. I just make mindful choices in what I eat and I stop eating when I'm full. It's helped me enjoy the occasional indulgence without feeling guilty.
Snack Smarter
My days are insane and I'm constantly on the move. Some days, it's just back-to-back meetings, projects, content sessions, and everything in between. That means it's very likely I'll miss lunch and a hangry Mai Lyn is no good to anyone. Carrying snacks with me has been a life saver especially when I'm on-the-go. I carry a tin of almonds with me at all times and it's so helpful in tiding me over until I can actually have a sit down meal. I'm also less likely to grab a quick, less healthy snack, and the almonds keep me fueled and energized to tackle whatever comes next.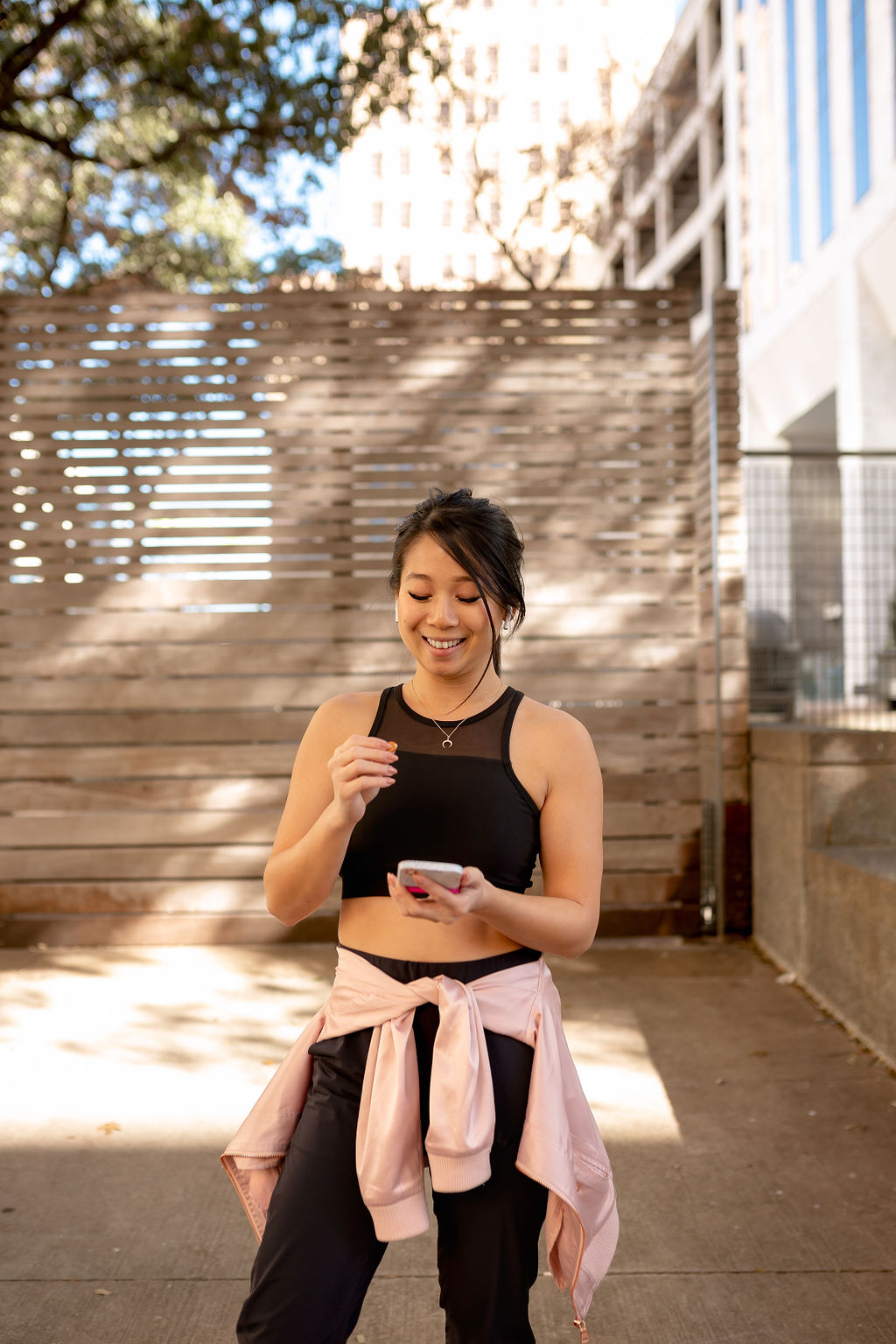 Take My Vitamins
I'm on a multivitamin and I take magnesium to help me sleep better. I plan on adding fish oil, vitamin c, and protein. It's hard for me to get enough protein in a day (almonds help!) and if taking daily supplements will help me excel in my workouts and maintain my health, then it's a no-brainer.
Get Better Zzz's
One of my biggest challenges is getting the proper rest. Sleep affects everything – from how I function throughout the day to my performance in the gym. I think people overlook how important sleep is and I have a hard enough time falling asleep because my mind is constantly racing. I'm committing to an earlier bedtime and a proper wind down routine that doesn't involve my laptop or phone.
But these are so simple?
There's always room for improvements and I'm committing to the smaller steps that I know will take me the furthest. These simple goals don't seem like much, but I'm changing my mindset to think about my health and my body when I'm in my 40s, 50s, and 60s. Taking the necessary steps to make sure I'm healthy overall – mind and body – is going to be most beneficial. What are you committing to this year?
On a separate note, if there is an emoji for tacos and avocados, there should definitely be one for almond lovers, don't you think? Join me in signing the petition here to help get an Almond Emoji.
This blog post is brought to you in partnership with California Almonds.