I love doing staycations. I'm a huge believer in taking time for yourself and becoming a tourist in your own city. For this post, I partnered with Visit Dallas and the Adolphus Hotel to show you how I like to spend my staycations in style.
After traveling for 5 weeks straight, it's a wonder I wanted to stay in another hotel, but what I needed more than home was peace and quiet. Plus, my home was a complete mess with laundry everywhere. So a night at the Adolphus Hotel, complete with spa time, dinner at City Hall Bistro, and a big bed all to myself sounded amazing. I checked into the newly renovated hotel in Downtown Dallas and was blown away by how majestic and beautiful it was.
After checking in, I moseyed my way to my room and my jaw dropped. My room was stunning and more than I could have expected. It was spacious with simple and elegant decor and an incredible terrace with downtown city views. I stayed in a terrace suite. It took my breathe away and provided the perfect getaway from my busy and exciting life.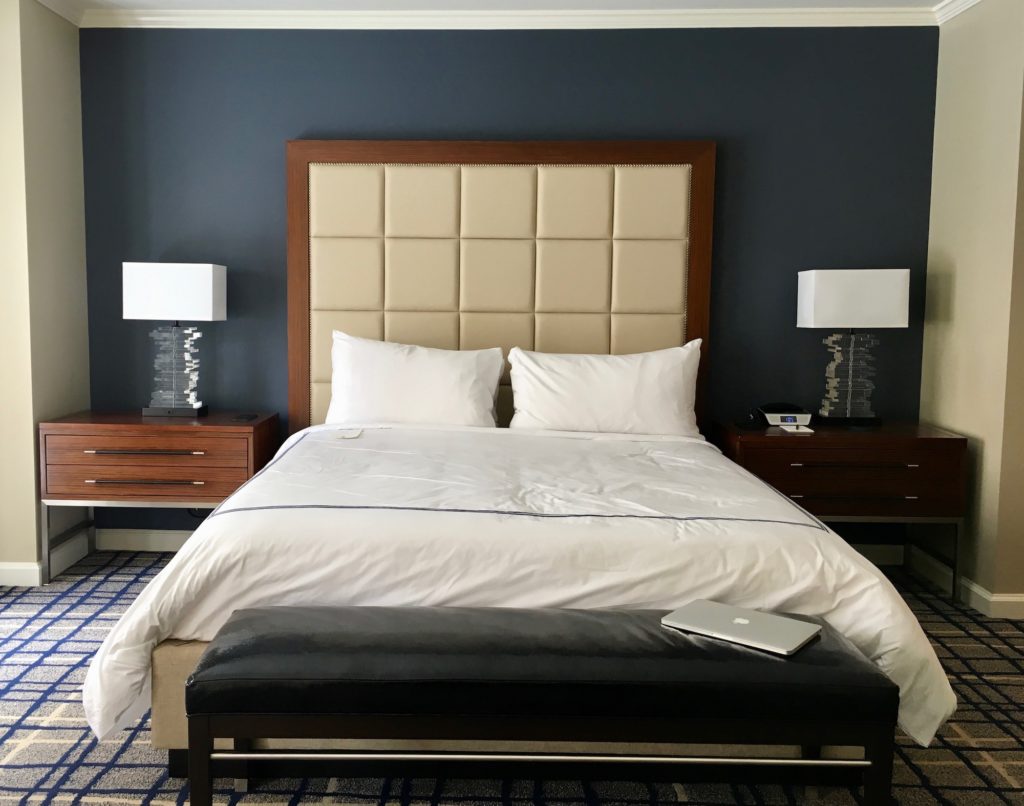 After settling in, I headed straight to SPA Adolphus for much a needed massage. I loved that the relaxation room also had it's own quiet terrace above the bustling city below. There's nothing like sipping a mimosa and being stories above the chaos of downtown. During my spa treatment, I was able to select my scent of essential oil for a sensory experience. I loved the luxury of the spa and the changing rooms. Truly a lovely experience. It was just what I needed to release some pent up tension in my body.
I spent the rest of my day in bed. After that massage, I didn't want to do a dang thing. So I lounged in my room, watched TV, and waited for a girlfriend to join me for dinner at the new hotel restaurant, City Hall Bistro. It's a gorgeous space offering light European fare and we just had a girls night. I loved the cocktails offerings and my favorite would be the octopus appetizer and paella valenciana (seafood). Make sure you check out their menu here. It can definitely make for an adorable date night spot whether you're a guest at the hotel or not.
Don't worry, I definitely made time the next morning to spend at the pool with a book. The pool is a new addition to the hotel and is quite beautiful. There's also a fully stocked bar for you to order food and drink while you lounge. I made the most of the pool and the views.
—
If it's one thing I love about staycations at fabulous hotels like The Adolphus is that it's a one-stop shop for everything you would want on a mini vacation. Amazing food and drinks, me time at a spa, sunshine at the pool, luxury and views. Plus, you're in walking distance to many other gems and local attractions when you're in the heart of downtown.
I loved working with Visit Dallas to bring you this experience and inspo for your next staycation. The Adolphus has definitely made it on my list of favorite Dallas hotels. Don't forget to head over to Visit Dallas where you can find other ways to rediscover this amazing city and make #DallasBigMoments.