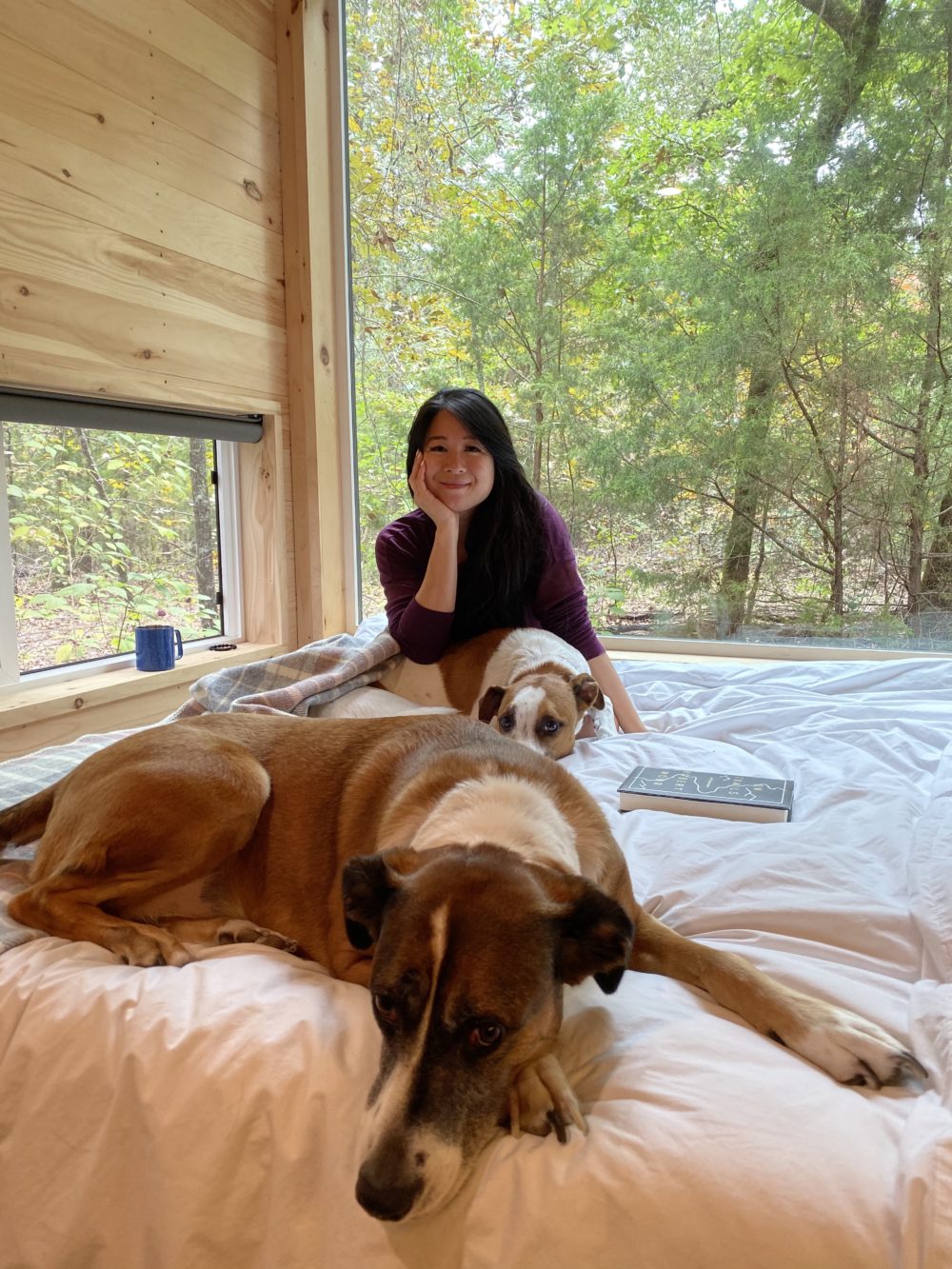 Last month, I escaped for a quick weekend out of the city at Getaway House. It was a surprise trip and I really enjoyed it and got SO many questions. I was literally talking about this concept the day before with no idea of what it was. I really enjoyed the surprise and am answering all the questions I got from you all!
What is Getaway House and where is it?
It's a tiny cabin getaway that you can rent per night. It's located in La Rue, Texas, which is 2 hours outside of Dallas. There is one outside of Austin too all over the nation in select cities! The appeal is the invitation to unplug with the amenities and comforts we'd all want, but don't want to go through the trouble of bringing.
How did you like it?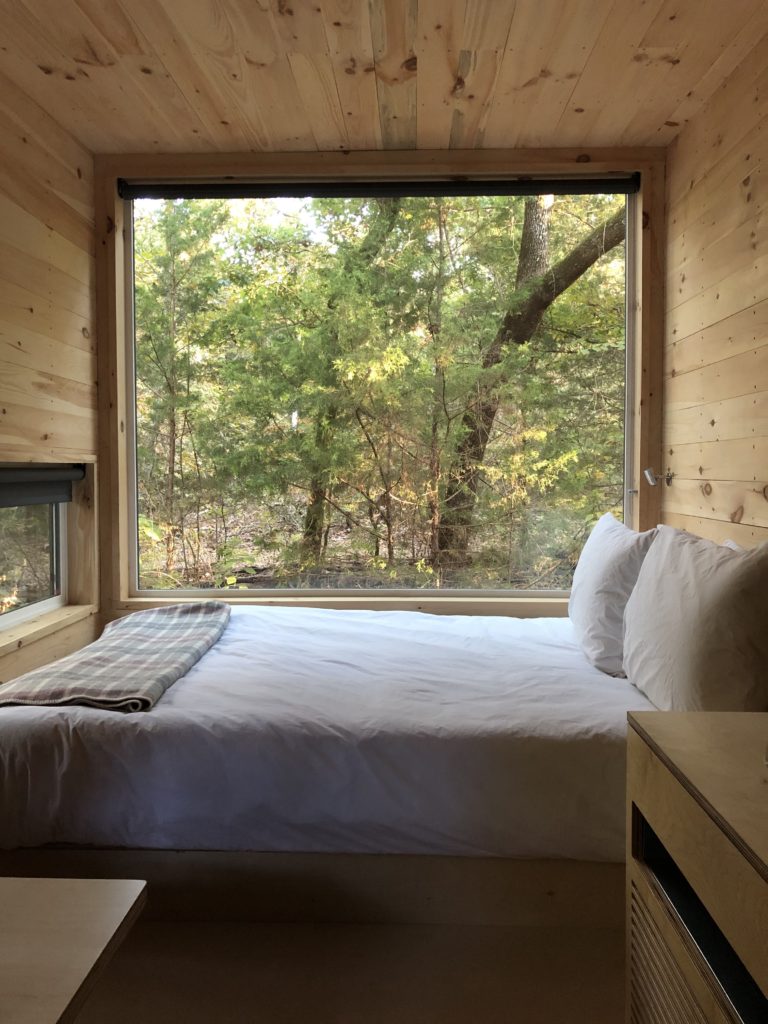 I loved it. And let me preface that by saying, I am NOT a camping girl AT ALL. I can be outside all day and be sweaty, sticky, smelly, muddy, dirty, and gross from all the activities. But at the end of the day, I want a hot shower, a CLEAN bathroom, and a clean bed. AND I don't want to walk to a clean bathroom or shower either. Getaway was the perfect fusion of a glamping experience and a hotel experience. Add on a tiny house and I was just so excited!
What was the tiny cabin like?
It's the cutest thing. If you're curious about tiny homes, this is a fun experience. You'd be so surprised how everything fits and how comfortable it was. Mind you, it was the two of us plus two medium sized-dogs. It has a comfy bed, a small dining table, bathroom, shower, and kitchenette. The outside is complete with a campfire, picnic table and additional chairs and firewood.
The inside is clean and has just about everything you'd expect in a hotel room, and everything you'd need for a camping experience. The tiny cabin is complete with a clean bathroom and shower and toiletries like towels, shampoo, body wash, conditional, and even tampons. It has a cute little kitchen with silver ware, plates, cups, some cooking pans, kettle, lantern, and even snacks and food for purchase. On past camping trips, I'd always forget simple things like dishwasher soap, foil, and salt & pepper, and cooking oil. There is also a stove top and even a small fridge which is definitely glamping. They had it all. I loved it that they thought of just about everything.
Anything you'd recommend bringing?
Yes, a few things depending on what you want to do! You can literally just show up with snacks. However, if you want to take advantage of the fire, you can't cook on the grill outside with the pans provided. I highly recommend bringing a cast iron skillet. Of course, you can just use the foil and cook on the grill. Bring extra groceries for meals and snacks. We made steaks on the cast iron, roasted corn and potatoes in a foil pack in the fire and also made eggs and bacon for breakfast. I always bring my own tea or instant coffee too, but they have that there. I would also recommend bringing your own water. Even though the water is treated, I didn't exactly love drinking it and it's not cold.
Did you get bored?
Nope! I was only there one night and I really enjoyed slowing down and cooking. It kept us busy and it was just nice to sit by the fire and chat. Books and card games are provided, but bring your favs. I would love to come back with friends and play board games or… drinking games. Ha. On the camp-site map, there were options for things like fishing and zip lining and hiking, but it wasn't exactly walking distance close from where we were.
Is it very isolated? Did you see other people?
We felt pretty isolated, but we could still see other nearby cabins so you aren't completely alone. With the spotty wifi, we had a chance to unplug, but what I did like was the landline inside the cabin. So if we needed 911 or had questions, we could call directly and someone would pick up. In the morning, we asked for a late check out and they were kind of enough to make an exception.
Was it super expensive?
I don't think so. I saw prices as low as $100 a night which is comparable to a hotel stay. If you're comparing to camping, you're paying for the luxury of not having to lug all the things you'd need i.e. plates, cookware, silverware, a tent, etc. It's an experience I believe is great for a solo trip, a couples getaway, etc. I was pleased to know some of my friends did book a stay and reported that they loved it too.
Other things to know?
Get there as early as possible so you can enjoy settling in and make a fire. Now that it get's darker sooner, keep that in mind. We arrived around 5 and didn't have much sunlight left before needing to create a fire. Especially if you plan on cooking outside, you don't want to rush. It does get dark and there aren't lights in the area. You do get a lantern but again, that's only so much light. If you arrive after dark, you don't really get to see the accommodations in all it's majestic glory.
Bring your toothbrush and toothpaste.
You can bring your furry friends! With a pet deposit, we could also bring the furbabies. I loved that they included an outdoor leash for them, a doggie bowl, and even treats for purchase in case you forgot.
All the food is for purchase. They aren't ridiculously expensive either which is great. I do recommend bringing what you need for food.
They also have cabins for 4 people which is great for families. I personally would want my own cabin and have my friends get their own. You can request getting cabins next to each other when you book.
Recap + referral
Had an amazing time and wanted to share the experience. I also signed up for their referral program. If you book using this link, we'll both get $25 credit off our stay. Hope you have fun getting away!
This blog is NOT sponsored by Getaway House. We paid for the experience and all opinions are my own.