I'm teaming up with Sprouts to bring you a fun new recipe that's perfect for hosting parties: my Easy Mini Bell Pepper Taco Bites. I decided to go with a country theme and selected Mexico. Well… because Tex-Mex duh. The foods are bright and colorful and always a fan favorite.
My main challenge when attending any potlucks or house parties is the lack of healthy options and… let's be real… my self control. When you're looking at all the chips, dips, Pinterest worthy baked goods and cookies, those sad dry looking veggie platters just don't seem appealing. For any watch parties or get togethers, these low carb mini bell pepper tacos are a game changer and I think all my health conscious friends can appreciate the substitute but with all the flavor.
[Tweet "Simple mini bell pepper taco recipe perfect for any party."]
Ingredients:
-2lbs ground beef or turkey
-1 small onion, finely chopped
-1-2 bag of mini bell peppers
-Shredded cheese
-1 Can of diced tomatoes
-1-2 packets of Sprouts taco seasoning
-Salt
-Pepper
-Ketchup
Seasoning (I used 1 packet of Sprouts taco seasoning and my own mix of seasoning)
-2 tsp Oregano
-2 tsp Cumin
-1 tsp Chili Powder
-1 tsp Onion power
-1 tsp Garlic Powder
-1 tsp Cayenne
-2 tsp Salt
-1 tsp Paprika
Instructions:
In a medium crock pot, place the ground meat, chopped onion, diced tomatoes, and 1 cup of water. Stir and cook on high for 4 hours. Stir occasionally.
After the meat is cooked through, combine all your spices and/or taco seasoning packets and mix into the meat. Cook for an additional 1-2 hours. Taste and season with salt as needed. I added ketchup for that tangy, sweeter flavor I personally like.
Halves all your mini bell peppers and remove seeds and veins.
On a big flat cooking pan, spray with non-stick cooking oil and place peppers. Press down on the bell peppers to make them flatter.
Spoon taco meat generously into the bell peppers. Add onions and shredded cheese on top. Be generous with the cheese.
Heat oven 375 degrees and cook for 15 minutes or until cheese is melted.
Remove from oven and garnish with cilantro. One bag of mini bell peppers makes 4-6 servings.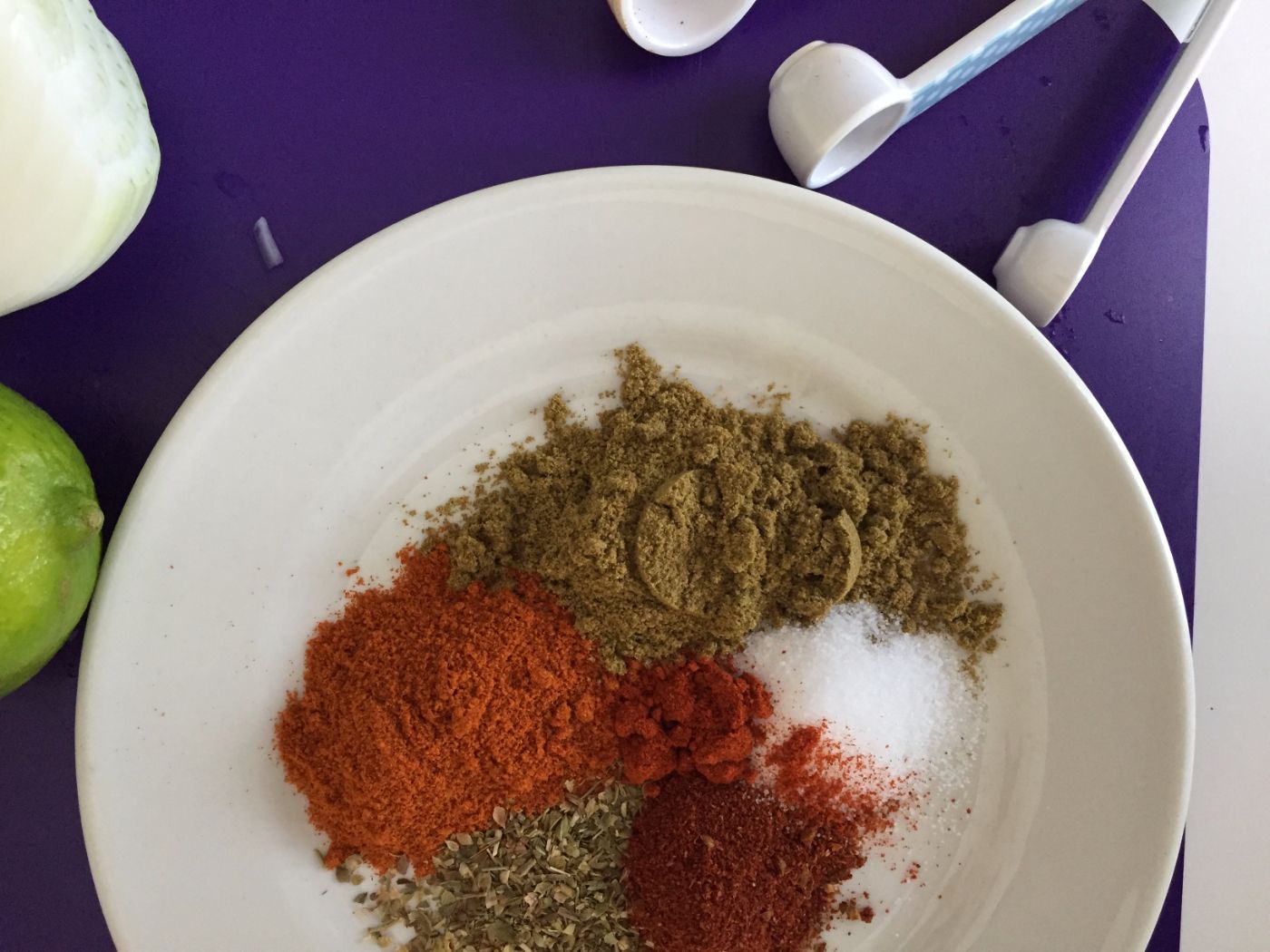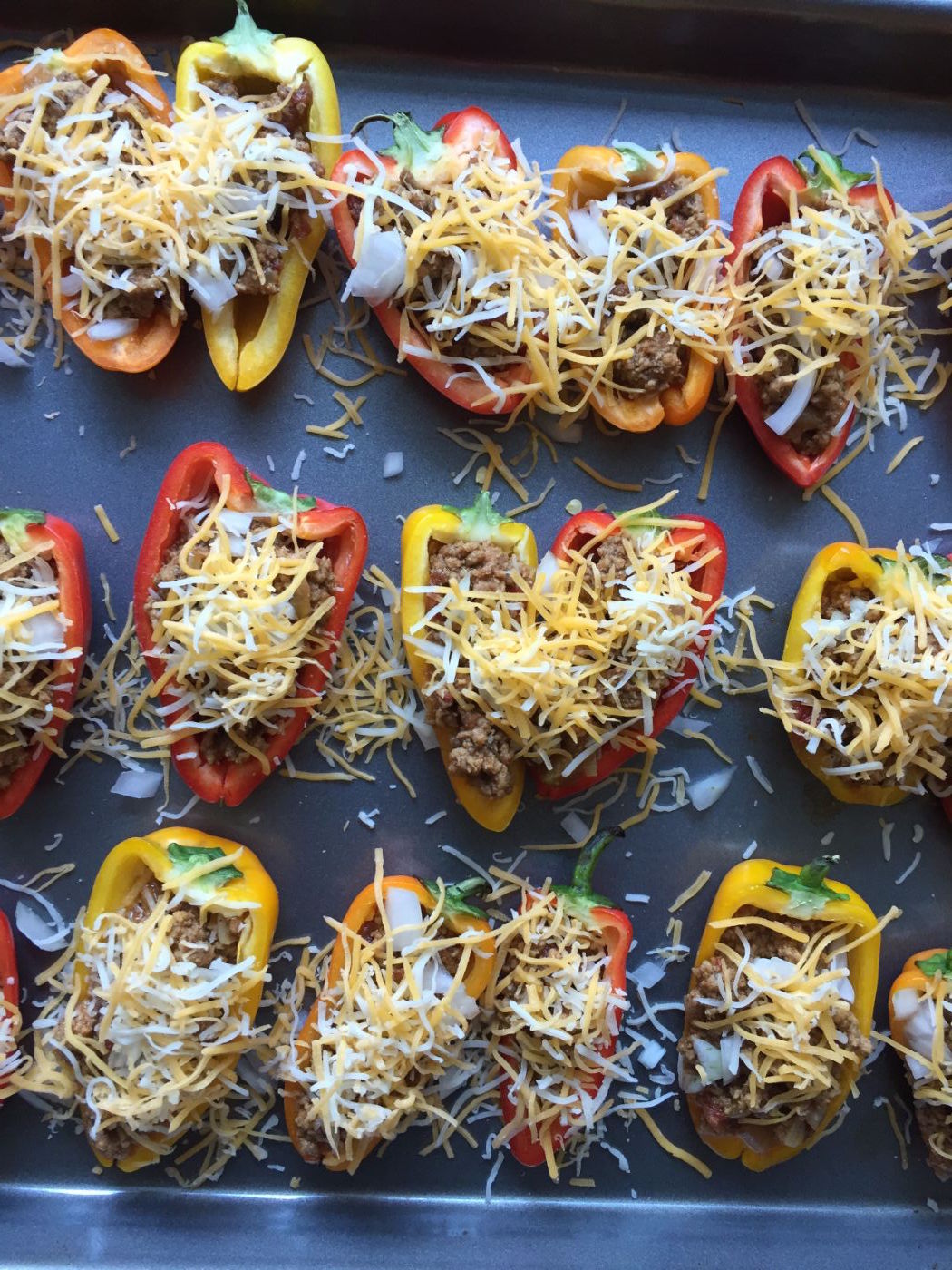 These taco bites were excellent and so easy to prep. It's super easy to make the taco meat the night before, making the cooking process a lot simpler and easier. You can always sub the beef for turkey or chicken and create your own seasoning. You can also add other ingredients like corn, avocado, or beans. I love that you can have a couple of bites and not feel guilty for chowing down during the festivities.
[Tweet "Easy mini bell pepper taco recipe for any watch party."]
These also made for great leftovers the next day. I toasted them in the oven, added a little more cheese and had a yummy lunch the next day.
You can make so many fun combinations with tacos. What are some of your favorite toppings for the perfect taco bite?