The energy in a city like Las Vegas is electric. I attended Blogfest the previous year in Los Angeles where I shared my top 5 takeaways and it was a blast. Blogfest is a fitness blogger conference that's tied to the large fitness convention and expo called Idea World. This is where any fitness professional can attend to try out different class formats and even get certified if they'd like. There's tons of classes and sessions. The expo brings in fitness brands of all kinds to showcase their latest products, apps, services, and more. It's a fitness Disneyland.
I attended the conference once again with my Dallas Fitness Ambassadors and there's no greater feeling than having some friends to make it a work and play trip. I knew for this trip, I wanted to do a few things differently having learned so much the previous year.
Manage your time efficiently
I was very selective with which sessions and events I wanted to attend. When you've been blogging this long, there's definitely always something new to learn. I took advantage of the sessions and sat in on talks I thought I'd get the most value from and spent the rest of my time doing other things that would help me reach my other goals. Map out your day!
Network, network, network
My main goal was to attend the actual expo and meet as many people as possible. The previous year, I didn't get a ton of time to explore the expo (where ALL the fitness brands are posting up), but what little I did, reaped the most rewards in terms of networking and sponsored opportunities. I was able to get face time with old friends from companies I had met at Idea World the year before, meet brands I've only chatted with via email in person (finally!), and make new connections.
I also loved that it helped me get more comfortable pitching myself and my brand in person. I can write emails all day long, but in-person connections are SO important. I believe your charisma and energy is much more memorable in person. Practice makes perfect. There were plenty of companies there that solely wanted to meet with bloggers. However… most of them were stuck in the rooms which I think is a missed opportunity. Take what you learned from those brand partnership sessions and put them to good use!
Try something new
The featured workout for Blogfest was Strong by Zumba. I am NOT a dance cardio girl at all. It's probably one of my least favorites because choreography freaks me the F out. But to my pleasant surprise, Strong was SO fun and not a dance format at all. It's considered high intensity tempo training. The music is reversed engineered to make each movement you do feel more powerful. Ashley and I only did a 30 minute class and we were SO dead. Definitely got in our cardio for the day.
Go to the happy hours and parties!
There are social hours and parties for a reason. Being cooped up in a room or working out all day, isn't going to help you make real connections or meet more people. My friends and I attended the Redbull party Friday night and it was SO much fun. The party was hosted inside a suite at the W Hotel inside SLS that was designed by Lenny Kravitz. Dope. When brands reach out and want to get to know you, let them. It also gave us a chance to relax, mingle, and chat. Plus the swag bags were LEGIT. I still can't believe I came home with a wireless Jaybird headphones and plenty of Redbull.
Have fun!
First of all, I'm in freaking Vegas. There's no way I wasn't going to let loose and have some fun. I'm just so glad I was able to party in Vegas with my friends. One of my favorite nights included chowing down on fried chicken from Yardbird with my friends at Compete Every Day. Good food, great company, and FRIED CHICKEN. It's so good. Yardbird is located inside the Venetian Hotel. After dinner, we hopped over to the craft cocktail bar called The Dorsy and ended the night at Tao nightclub. Hell yea. Huge shout out to Jake and Christine for their amazing hospitality and good vibes.
Make time for yourself
While I'm definitely a very social person, I found time for myself to decompress. To some, that might have been a run or workout, exploring the city, or even posting up in your room and getting work done. I took advantage of the pool at my hotel and caught some rays for an hour before heading back to the Expo.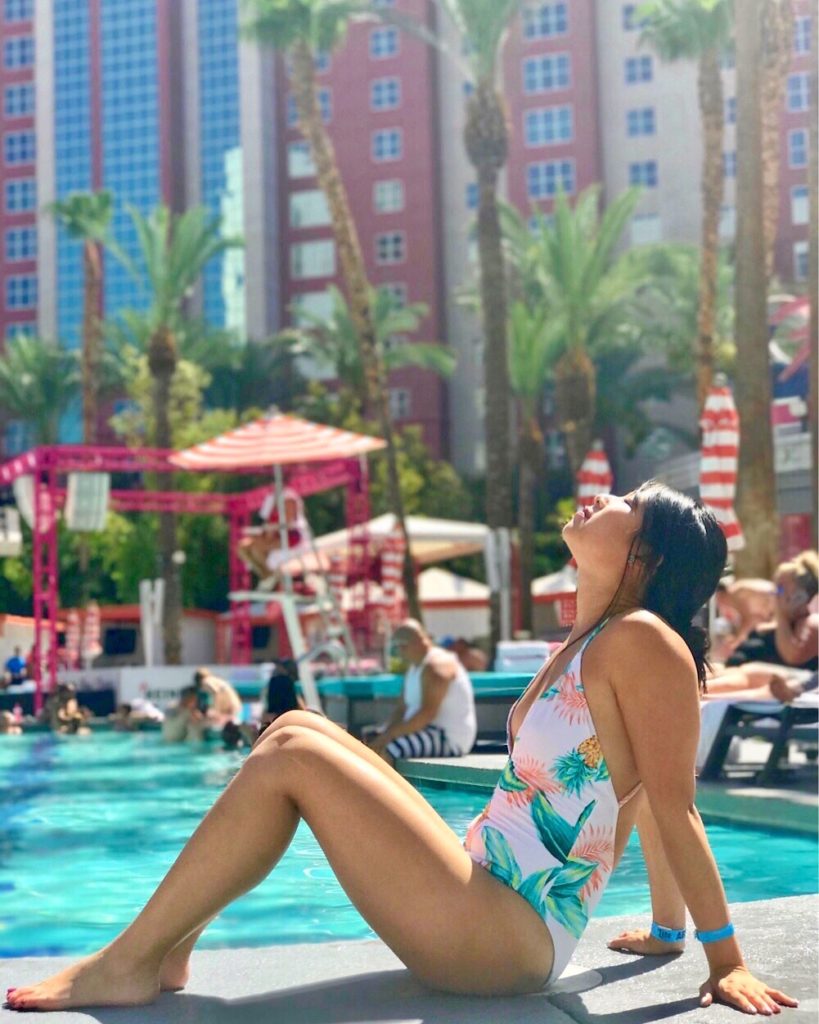 Blogfest is a great conference to attend and will be hosted in San Diego next year! Sign up on their site to be the first to know when they start accepting applications. I also loved that they waived the registration fee for fitness bloggers, but you have to accepted in order to attend for free.
Have you ever attended a conference? Which ones? I'm looking to check out some new conferences next year and am crossing my fingers they'll be in cool cities too.