OMG. 2018 is here and hope everyone had a great new years. There's something special about hitting that reset button everywhere; a clean slate to go after your goals (not just resolutions). As always, I'll try to hook you guys up with the best Dallas fitness events. Here's a round up to keep you sweatin!
Date: Wed., Jan 3rd & Mon, Jan 8th | Time: 630p-730pm | Location: Athleta Oak Lawn | Cost: FREE. RSVP here.
Yoga Pod Dallas is offering a Free All Levels Flow Vinyasa Class at Athleta on Oaklawn. Got two options: class on Wednesday, January 3rd and Monday, January 8th!! Arrive by 6:30 to secure your spot and the class will be from 7-8 pm! Bring your mat, water, a few friends, and your very best 2018 intentions! We will be raffling off a month of free yoga to participants in the event!
Date: Thu., Jan 4th | Time: 6p-8pm | Location: Snap Kitchen Preston/Royal | Cost: FREE
If you're in the Dallas area, stop by the Preston/Royal location and visit with Andrea from Loubies and Lulu and Alex from The Defined Dish from 6-8pm! Whether you've already decided to do the January Whole30 or need an extra nudge of motivation, this will be a great event to chat about the Whole30 and show you favorite Whole30 approved entrees and snacks.
Date: Thu., Jan 4th | Time: 6:30-8:30pm | Location: Outdoor Voices Dallas | Cost: $20. RSVP here.
Dallas Fitness Ambassadors and Outdoor Voices would like to invite you to our first 2018 event of the year. Join us for the Silent Disco Run/Bootcamp and choose from a 3 mile night run around Katy Trail or a 50 minute bootcamp session.
Head to Outdoor Voices in Dallas on Thursday, January 4th at 6:30pm for a fun sweaty experience. Slip on noise-cancelling headphones and get lost in the music during your run or bootcamp class. There's limited spaces for both the run and bootcamp class. Both activities will take place at the same time and will conclude in a fun fall party in the Outdoor Voices location.
Check in begins at 6pm. Class to start promptly at 6:30p. We'll have wonderful vendors there for post-workout goodies, treatments, bites and more inside Outdoor Voices.
Please bring water to stay hydrated!
Date: Sat., Jan 6th | Time: 1-3pm | Location: Communion Neighborhood Cooperative Coworking, Coffee and Eats | Cost: $200. RSVP here.
Join Whitney & Andrea for the initial kick off of Whole30 Dallas Duo! They will discuss rules, strategies, social outings and all your concerns. Plus, you'll have swag bags waiting for you!
There will have a curated menu available & Whole30 approved coffee bar (Vital Proteins collagen & NutPods? You know it!)
Prior sign-up required, limited spots. Join for the most social, comprehensive Whole30 yet!
http://dallaswhole30coaching.com/whole30dallasduo
Date: Sat., Jan 6th | Time: 7-9:30pm | Location: AC Hotel | Cost: $30. RSVP here.
Barre & Bites New Year's Soiree is an annual fitness event thrown by bloggers, Janna and Ginger. Its purpose is to bring together fitness enthusiasts around DFW and raise money for organizations in need. At the events, you can expect an intense workout followed by tasty food and swag for everyone.
Kick the new year off right in the heart of Downtown Dallas at the new AC Hotel. This event is all about starting our resolutions on the right foot. Working out – Check! Helping the community – Check! Surrounding yourself with positivity – SUPER CHECK! After the workout, there will be a swanky party different stations where you can get pampered and freshened up. Of course there will be some yummy bites and a little booze – it is a new year after all.
Date: Sun., Jan 7th | Time: 1-3pm | Location: V12 Yoga | Cost: $40. RSVP here.
Are you ready to make a plan to manifest and create a mindset that really inspires you to DREAM BIG and ACT? Your thoughts influence your emotions and your life. Manifesting is often times very personal, but in this workshop you will build a Vision Board, conversation and learn how to build a mastermind group as a community in wellness.
The 3-hr workshop will end with relaxing meditation to create the VIBE you need to start the new year with a Plan.
Investment: 40.00 includes all supplies
LIVELY Pop Ups in West Village with Dallas Fitness Ambassadors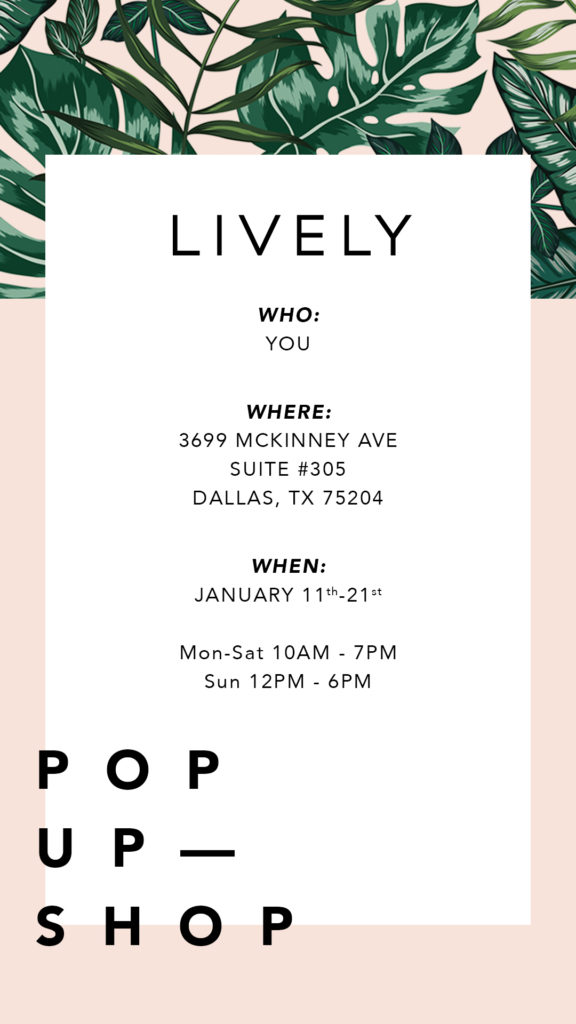 Date: Jan 11-21st | Time: Various | Location: West Village (3699 McKinney Ave, Dallas TX 75204) | Cost: Free. Space is limited. RSVP here.
LIVELY is back in Dallas and is popping up shop in West Village. You're invited to check out a variety of free fitness, beauty, and girl power events. Check out their events list for the details. Dallas Fitness Ambassadors is hosting a silent run on 1/13th. Hope to see some of you there.
Date: Fri., Jan 12th | Time: 6-7am | Location: WFAA Studios @ Victory Park | Cost: Free. RSVP here.
Kick off the New Year on a high note with TBC-Design District's Brawl kickboxing class, one of the top fitness classes in the country according to SELF magazine! Join TBC-Design District and Sonia Azad at WFAA Studios @ Victory Park on Friday Jan 12th at 6am for their Party on the Plaza (and yes you'll be on TV!!).
It may be early but it's never too early to be the best version of yourself! And don't worry about being chilly, Robin Daniel will have you working up a sweat in no time.
Class is free so bring a friend or two but RSVP to reserve your spot. Everyone who attends will get a free week of classes at The Barre Code Dallas – Design District to continue their 2018 fitness goals. Wear athletic shoes and bring water.
Date: Sat., Jan 13th | Time: 6-11am | Location: Reunion Tower | Cost: Starts at $20. RSVP here.
Registration is now open for the Dallas Vert Mile, the stair climb race and fun walk held at the iconic Reunion Tower on Saturday, January 13, 2018.
Four vertical – or vert – distances are available. All participants complete the Vert Sprint Race and Fun Walk, which climbs 50 stories and 470 feet. Participants can also compete in the 3-lap Vert Quarter Mile (1/4 mile); the 6-lap Vert Half Mile (1/2 mile); or the 12-lap, 600-story, Vert Mile Challenge. The challenge is to finish all 12 laps within the 2.5 hour time limit.
The event will benefit a number of non-profit organizations and the participants – who will get stronger, fitter and happier!
Registration is now open www.vertmile.com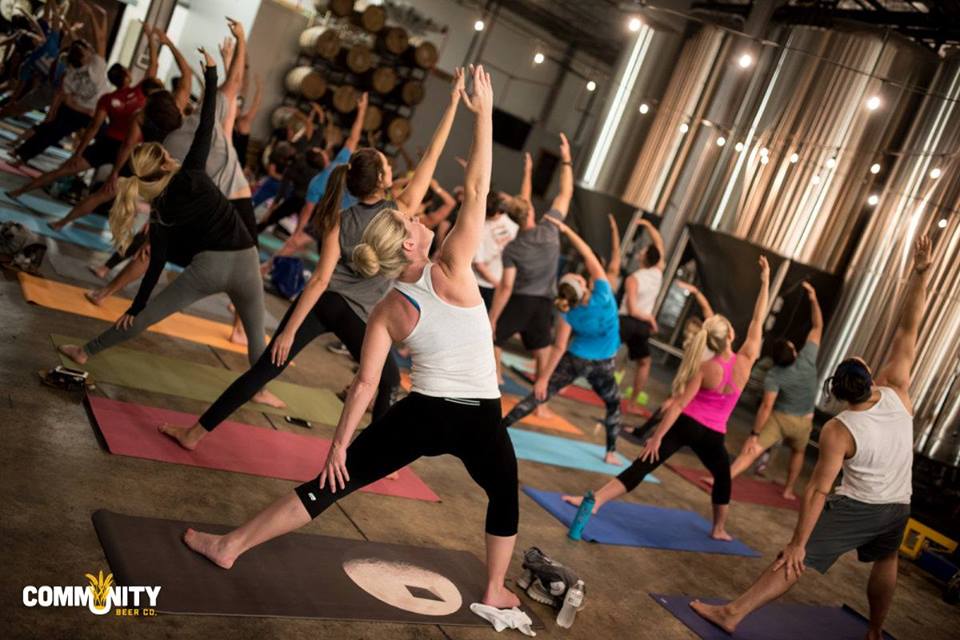 Date: Sat., Jan 13th | Time: 10am-12nn | Location: Community Beer Company | Cost: $15. RSVP here.
Yoga and Craft Beer anyone? CubeFit Yoga and Community Beer Company are teaming up to bring you both! They'll be hosting a "morning" yoga class at the brewery, and you'll even receive a complimentary pint & behind the scenes brewery tour following the yoga session!
Doors open at 10 am with class beginning at 10:30 am. Please arrive by 10:15am .
All levels & abilities of Yogis and Beer Drinkers are welcome- it's the best way to spend your Saturday morning!
Tickets are $15.00 and include a complimentary pint & brewery tour.
Date: Sun., Jan 14th | Time: 730pm | Location: Brewed+Pressed in West Village | Cost: FREE. RSVP here.
Join Yoga Pod Dallas again for a fabulous FREE All Levels Class at Brewed+PRESSED on Sunday, January 14th! Arrive by 7:30 pm to secure your spot as space filled up quickly last time! The class will be from 8-9 pm followed by an exclusive discount at Brewed+PRESSED offered to class participants! Come get your Try A Free Week card and also enter in the raffle for a month of Free Yoga! Bring your mat, bring your water, bring your friends and we look forward to seeing you at this fun event!
Date: Sun., Jan 14th | Time: 9am-12nn | Location: GRIT Fitness – Design District
Join GRIT Fitness, Sunday morning, Jan 14th to celebrate 3 amazing years of business and community! Enjoy theme classes, a photo booth, breakfast bites, sips & sweaty workouts!
Festivities will take place at both GRIT Fitness locations, Design District & SMU.
Date: Sat., Jan 20th | Time: 12p | Location: Texas Ale Project | Cost: $20. Register here.
Dallas Iron Fitness is inviting you to join us for a 45 minute HIIT workout by one of our instructors at The Texas Ale Project. Following the workout Simply Fit Meals will be doing a food and beer pairing while Lululemon will host a trunk show and a instructor lead meditation session.
Date: Sat., Jan 20th | Time: 8:30-11:30am | Location: Community Beer Company | Cost:
Calling all cyclists & craft beer lovers! For the second year in a row Community Beer Company is teaming up with Dirtbag Charities to form the Community Beer + Dirtbag Charities Bike MS Team! We're a group of beer drinkers who ride bikes and bike riders who drink beer coming together for a great cause. Our mission is to support the National Multiple Sclerosis Society at the 2018 Bike MS.
All levels of cyclists and beer drinkers are welcome, and there will be some AMAZING perks for members.
Free Community Beer, brewery merch, discounts at local businesses, free beer, and FREE BEER! 1/20 marks our forth social ride, starting at the brewery. We will have a no-drop ride with 2 groups of riders: one fast (~18mph, 35 total miles) , and one less fast (~15mph, 18 total miles). Ride will be followed by beers and a VIP brewery tour @ Community! Doors at 8:30am, wheels down at 9am.
Date: Sat., Jan 27th | Time: 8am-12nn | Location: Bank of America Plaza | Cost: $45. RSVP here.
Join the Leukemia and Lymphoma Society for our 10th annual Big D Climb! Big D Climb is a 70 floor stair climb in the tallest building in Dallas, Bank of America Plaza! To register go to www.bigdclimb.org and you can sign up as an individual or form a team!
Registration is $45 and there is a $100 fundriasing minimum per participant. Their goal this year is $350,000!
Help cure blood cancer by signing up today!
Date: Sat., Jan 27th | Time: 10am-12nn | Location: Intrinsic Brewery + Smokehouse | Cost: $35. RSVP here.
Exercise, animals & positive people are all recommended to relieve stress, anxiety and depression. The perfect cure for a chaotic week. Enjoy a yoga class while the over friendly (and oh so cute!) pygmy goats run around, under, and over you! Plus, stick around and have a yummy craft brew (or 2) by their hosts, Intrinsic Brewery.
100% of proceeds go to Here's Your Reminder Project charity!
Ticket includes:
~1st hour= Goat yoga class taught by one of our awesome certified instructors
~2nd hour= Play & Beer Time! Stick around for your FREE craft beer (1/person) and extra selfie/play time with the cuties.
Things to Know:
~ Bring a mat, water bottle, and towel.
~Class will be conducted on a heated, enclosed patio. ~Good for all levels (even beginners) ~Although this is an actual yoga class, it is meant to be fun and not taken too seriously. Yogi snobs, this isn't for you. 
Hope you enjoyed this round up of fun Dallas fitness events. As always, I'll be updating this event throughout the month because I know there are tons more out there! In the mean time, if you're in North Dallas, my girl Love You More Too has a sweet round up on her blog as well. Check it out here. If there's an event I missed, drop me a line at mailyn@deepfriedfit.com. Have an awesome week you guys!