2017 went by so fast and I love reflecting on all the amazing things that happened. There were good times, bad times, and great times. All of these experiences have taught me so much about myself. Even with the bad moments, it's taught me resilience, strength, and to be able to appreciate all the good things. This was definitely the year of a lot of personal growth. Here are some of my favorite moments:
My first year as a full time blogger and entrepreneur
I went full time in August 2016. This would be my first full year on my own and a chance to really see if I have what it takes. There's a small voice inside my head that's currently screaming: I'm still here motherfxckers!!!!! It's a lot of work and a lot of hustle, but I'm grateful every single day that I get to do exactly what makes me happy. This brings me so much joy. It's such a privilege to be able to create experiences and connect people. Love that I'm able to bring my wild ideas to life. I also love seeing the people around me grow and succeed. All the good vibes. At the same time, it's not all rainbows and butterflies. It's hard. The biggest lesson I learned is that I am responsible for my own success and happiness and this opportunity is mine to keep.
Proudly working with Michelob ULTRA
I got to work with a lot of amazing brands this year, including Michelob ULTRA. I was selected to be 1 of 18 national ambassadors for Michelob ULTRA and this is one partnership I'm incredibly proud of. There's definitely something special about companies that really understand how to work with influencers. Instantly I had over 20 new friends that live all over nation and so many fun memories to share. My partnership with Michelob ULTRA challenged me to create amazing content and showed me what a truly perfect collaboration could look like. Plus, who doesn't love free beer?
Traveled coast to coast and got tons of beach time
On my vision board, one of my goals was to start pivoting my blog to include travel as a topic. I traveled the most I'd ever done this year and it was a blessing. I went coast to coast and loved every single moment. For two months this summer, I was gone pretty much every weekend on work and personal trips. Some of my favorite moments were being a sun baby. I love the ocean. I went surfing for the first time ever in Huntington Beach, CA (travel guide here) and it was exhilarating. Getting up on that board was such a cool feeling. Then I went to Miami where I danced my butt off at a Vixen workout party and really worked on my tan.
Growing after ending 5 year relationship
Ok, so I wouldn't exactly call this a favorite moment, but it did end up being a huge blessing in disguise. My relationship of 5 years ended abruptly and over time, I gained a sense of relief and freedom. There were a lot of lessons that I learned and I felt that I grew a lot emotionally from this. I've never been more sure about who I am and what I want in my life. I feel grounded. There's a lot of social pressure around what I should want or should be doing at my age, but the last thing I wanted was to do something that was not me at all. I'm really proud of myself for ultimately choosing me. I know I want to go into 2018 with an open heart and an open mind.
Taking time for myself and headed to Chicago & Denver
My trip to Chicago and Denver was a week long personal trip in the fall. It was the last big trip of all my trips this year and I almost didn't go. I was feeling burned out, discouraged, and a lot like giving up. It turned into the trip that saved my life. In Chicago, I met up with my friend Jeana, who is one hell of a boss ass bitxh, and it was like the universe knew I needed a pick me up. It was so much fun. I ate all the foods (food guide here), I explored the city, I talked about my ideas, goals, and fears, and just soaked in beautiful fall Chicago. I was immediately inspired and gained a new sense of purpose for my work. Came back so fired up and I haven't stopped since.
In Denver, I spent it mostly on my own. I shared a blog about traveling solo and how much good it does for the soul. I connected with some friends, went hiking in Boulder and made my up to the Royal Arch. Actually got lost for an hour by myself. Thought I was being clever by following the footprints, but really they were my own and I ended up back at the bottom of the mountain. LOL There was something symbolic in that moment. I could've just given up and gone home (because hungry and because scary), but I decided to try it again and beasted the hike. It was all incline yo! I came back feeling so refreshed. Oh and my butt looked great.
IdeaWorld and Blogfest in Las Vegas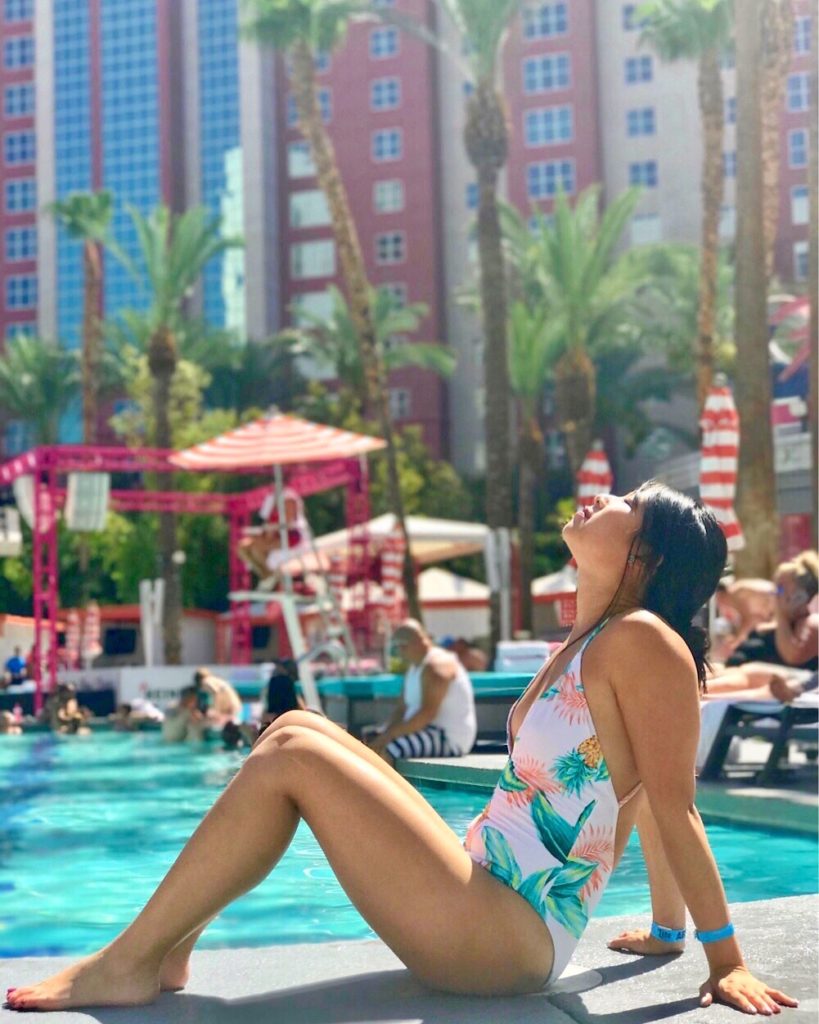 This trip was fun for a different reason. I had two goals: go to Blogfest and network my ass off AND party my face off. It's freaking Las Vegas. The phrase work hard, play hard never rang truer. I attended a few blogger sessions that were super helpful, met with some amazing brands at the Idea World expo, attended a badass Red Bull party at the W Hotel, had dinner with my friends at Compete Every Day and still made time to hit the pools, restaurants, and a few bars. I hardly slept and my partner in crime Ginger was the best rallying person ever.
Crossed Mardi Gras in New Orleans off my bucket list
Mardi Gras in New Orleans was SO fun. This would be my second time in NOLA and I love that city. I love the rich culture and funky character the city offers. I went with some of my best friends and we ate and drank our way through the city. It was so cool to watch the parades, catch the beads and explore all the local spots. I shared a travel guide for Mardi Gras here and my foodie recap here.
Learned self love and took better care of my mind, body, and soul
This year, I began taking more notice of my mental health. The pressure of working for myself can feel overwhelming, so I decided to do more things for me. I took days for myself to decompress and learned to let the little things go. I fell in love with weight lifting again and loved that process of getting stronger. It built up my confidence and I finally got into a true fitness routine. This was also the year, I became so much more comfortable in my own skin and loved my body. And, I stopped taking it for granted. I also fed my soul with pizza, fries, and fried chicken and all the delicious foods Dallas has been offering.
Went white water rafting and rock climbing in OKC with my blogger babes
This was one of the first sponsored trips I took this year. Got to work with Visit Norman and Visit OKC and planned a killer girls weekend with some of my favorite blogger babes. I got to try white water rafting at Riversports OKC. As you can see, I think I was the only one that had a blast. LOL. Also conquered 90ft rockling climbing experience inside converted grain silos. Super cool. Did a recap of that experience here.
Celebrated DFA's 2 Year Annivesary
It's almost unbelievable that my company is now 2 years old. I created Dallas Fitness Ambassadors because I wanted a community of like minded people I could vibe with. It's grown so much and I've met tons of amazing people these past 2 years. It continues to evolve and I decided to plant the seeds for possible expansion. It's definitely going to take some time, but I'll be announcing a relaunch and rebrand of Fitness Ambassadors very soon. I can't wait to see where this takes me!
Hosted over 25 events this year alone
Um what!?!? I just went back and counted all the events and it didn't hit me till I got past 25. I had over 25 incredible opportunities to create an event for the Dallas fitness community to come together, sweat, and have fun. Definitely couldn't have done this without the support and love of some amazing friends. This alone is an accomplishment I'm so proud of. My largest event to date brought in over 200 people and it was a party. SO awesome.
Setting my goals and intentions for 2018:
I've said this before. Words are powerful. These aren't so much goals as they are reminders of the things I say to myself daily. I can't wait to look back next year to see the progress I've made:
Give less fucks. I know how liberating this can feel and it's overall just less stressful to care less about what others think, and just do what makes me happy.
Be more intentional with my time and energy. I want to spend more time with friends and family. I want to spend more time making myself a better person.
I'd love to travel abroad this year. Australia? New Zealand? Peru? Thailand?
Stop saying "I'm busy". Instead say, "I'm hustling." Because what I do isn't busy work, it's purposeful. I'm going to own it.
Be more proactive, less reactive. I've already started planning better and maximizing my time. 2017 was the year of growth and alllll the learning curves. Now I want to do things smarter and faster.
Let go of things that are out of my control and roll with the punches.
Stay positive.
Hope this year brings you all lots of love, success, and joy! Thank you for letting me be a part of it.